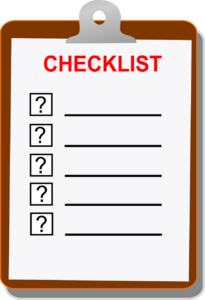 A checklist can help couples as they move through the adoption process.
Many parents-to-be understand that adoption is a very complex process that involves several ups and downs. However, most can't really grasp how emotionally-charged it can be until they are right in the thick of it.
To deal with the uncertainty, many prospective adoptive parents find it helpful to have a checklist of items to work on as they prepare to bring a child into their home. This can help them feel more in control and confident as they move forward and take this huge life step. Consider these actions if you are ready to welcome a new member to your family:
1) Do your research:
Read books, take classes, talk to adoptive parents, ask adoption counselors questions and participate in online discussion groups to get the information you need about applying to adopt and the adoption process.
2) Get started:
If you and your partner qualify to be adoptive parents, complete the initial documents to start the adoption process. If you have any doubts, reach out to an adoption counselor. Once you have started the process, start preparing for the other steps so you have plenty of time to take care of necessary documentation, make improvements to your home, etc.
3) Prepare a budget:
Adoption can be costly. Assess your finances and determine how you will fund the costs. Some parents set aside additional money similar to a vacation fund while others apply for loans, organize fundraisers or take on side hustles to raise funds. Include the costs of baby equipment, gear and supplies in your budget, too.
4) Gather up the troops:
You'll need a strong support system to get through the adoption process, so talk to your friends and family about being there for you when you need to talk.
5) Set up shop:
Make a list of essential baby items, including big items like the crib, stroller and car seats as well as smaller supplies like onesies, baby bottles and diapers.
6) Get your ducks in a row:
Complete the adoption home study, interview potential pediatricians, begin decorating the nursery, and find your legal representation.
7) Make an adoption day plan:
Typically mothers-to-be prepare a birth plan that outline how they want the birth process to go. It includes things like if they want anesthesia, who should be in the room and what music they want to play. Adoptive parents should have their own plan that includes what outfit you want to bring baby home in, who you want to greet you at home and what you want those first hours, days and months with your child to be like.
8) Schedule time for self care
With such exciting news on the horizon, it can be difficult to go about your daily activities. When emotions take over, make sure you take care of yourself: Get enough sleep, stay hydrated and take time for pampering with a massage or nail appointment. You'll have plenty of reasons for sleepless nights soon.
Considering adoption? We would love to speak with you! Reach out to us today through the chat button, email info@openarmsadoptionagency.com or call (206) 492-4196.